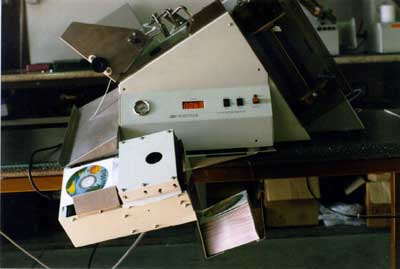 New MEP 120 sleever
Sleeves up to 50 discs per minute or 3000 per hour
Paper, card, PP or Tyvek sleeves
Benchtop operation
Fully transportable
Takes just minutes to set up
The MEP120 sleever is designed as an easy-to-use, bench-top unit
Up to 55 discs per minute,
Paper, plastic, tyvek & cardboard
Operation
Stand alone or fully integrated into a packaging line, the CD Sleever MEP120 is reliable and very easy to use. Load the input spindle with discs. Place empty sleeves into the adjacent hopper and press the start button. The arm picks a CD from the top of the spindle and places it onto the CD insertion slide. At the same time, a sleeve is pulled out from the hopper and held open in line with the CD insertion slide. The CD is then pushed into the waiting sleeve. The filled sleeve then slides into the finished product hopper.
The unit has an integral four digit counter so users can easily manage quantities and a selectable automatic stop option (adjustable from 0 - 9999) can also easily be set to stop the sleever after every set run of disks.
The MEP120 provides a versatile, dependable and transportable CD sleeving unit at a price to meet the tightest of budget constraints, whilst the output of up to 55 CDs per minute means it can compete with the more expensive heavyweights.
Option
The FF130 automated flap sealer from JMV Robotique is an optional extra for the MEP120 disc sleever. It folds and seals the sleeves from the MEP120 giving a quick and clean finish to packaging discs. The FF130 is fast and efficient folding and sealing the self adhesive flap on the filled sleeves received from the MEP120 and discarding empty sleeves to minimise wastage.
Business card model
The MEP120BC model has been designed to operate 8cm business card CDs
Specification

Sleeve sizes:

Width: 128mm (5.04") max
Depth: 120mm (4.7") to 130mm (5.1")
Inside width: 122mm (4.8") min
Flap size: 38mm (1.5") max

Sleeve material:

Paper (including glossy), card, PP, Tvyek

Media compatibility:

120mm CDs & DVDs (standard MEP120)
80mm business card CDs (MEP120BC model)

Disc capacity:

175

Throughput:

50 to 55 per minute

Operational voltage:

110-220v, 50/60Hz (self adjusting)

Dimensions (WxHxD):

380mm x 560mm x 800mm
15" x 22" x 31.5"

Weight:

38kg (84lbs)

Air pressure:
(external compressor needed)*

2 to 4 bars
6m³ /hour (30-60psi @ 3.6CFM)

Vacuum:
(external vacuum pump needed)*

800 mbars
3m³ /hour (2.94 psi absolute @ 1.8CFM)

Hopper capacity:

180 sleeves (medium thickness)
Warranty
12 months back to base, all parts and labour included. Extended warranties also available.
MEP 120 €13,600
Flap Folder FF 130 € 4,500